It's a bit of a fudge to call this "day one". Any trip road trip to San Diego involves basically wasting all day on the 376.01 mile drive over. Even though we left at 8:30AM, we didn't arrive at the hotel until 5:00PM.
It's really one barren, desolate wasteland, with Yuma smack dab in the middle. It's a lovely town, Yuma, and one that I'm sure most Arizonans would willingly cede to California, if only that darned Colorado River didn't make such an obvious border. Personally, I wouldn't cede Yuma to California. I'd like to trade it for the Imperial Dunes, where they shot the Dune Sea sequences of Star Wars: Revenge of the Jedi.
To be fair, Yuma does have two things of interest: The last remaining Round Table Pizza in Arizona and the last remaining Village Inn Pizza in Arizona. On the way over, we stopped at Round Table for a bit of nostalgia for the taste buds.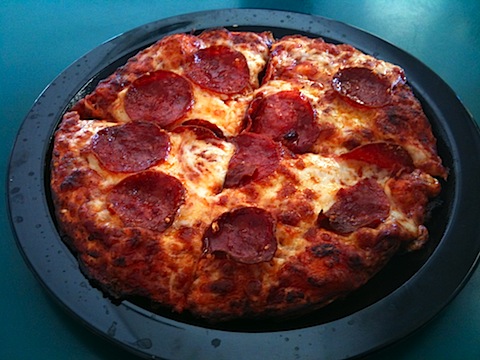 We'll be having Village Inn nostalgia pizza on the way home.
Shortly after we checked into our room at the Woodfin San Diego, which seems like a nice hotel, situated right next to a huge Qualcomm complex, the fire alarms sounded and we had to evacuate. As the fire trucks arrived, we decided to go to dinner. Michelle, who had to leave her toys behind was in tears, worrying that one of her favorite toys was going to be destroyed in the fire.
We browsed a nearby shopping area and found Luong Hai Ky, the Original Chinese Noodle Shop and had a decent batch of noodle soups. I had beef, the kids had duck and Irene tried the seafood. All agreed that it was good, but was more Vietnamese than Chinese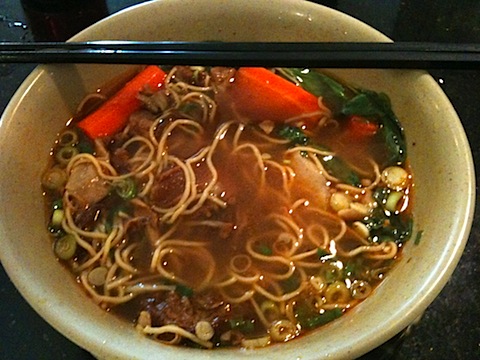 Our room has a kitchenette, so we stopped by the nearby Fresh & Easy to get some supplies for the morning and headed back to the hotel. The hotel was still standing and there was no sign of a fire, so we turned in early.
Looking back at my previous San Diego trip, I commented how incredibly helpful having my MacBook was. In that instance, we'd return to the room and could make all our plans with everything at our fingertips each night. This time, I'm on my first "real" trip with an iPhone, which should extend my information store to 24X7 and geo-aware. So how well did it do on the first day?
We lost the 3G signal just before we reached the last major housing developments on the west side of Phoenix – about 20 miles out from home, leaving me with the older, slower Edge connection. Since this was just like my original iPhone – well, it was disappointing, but I was used to it – and, I'd rather have slow internet than no internet – even if all I did was just continue to receive e-mail from work.
We never got 3G back until we arrived well into the suburbs of San Diego.
After you leave Yuma, you travel very close to the Mexican border. The new border fence is often within sight of the freeway, At one point, at a gas station that doesn't even seem to appear on Google Maps, you're so close that both my iPhone (on AT&T) and Chu-Wan's phone (T-Mobile) started receiving SMS messages saying, in effect, "Welcome to Mexico". The iPhone message included a note that said, "International Data Roaming rates are in effect at $19.97 per megabyte." Youch! Luckily I have International Data Roaming turned off – as should everyone, unless they intentionally are planning to use it. What would have happened if we'd driven past the border just as a bit e-mail with attachment had arrived?
Inside San Diego, the iPhone Maps application gave different directions than did my Garmin GPS. We went with the GPS directions only because traffic was looking a little ugly on the Maps route – although we had to travel through the only "solid red" traffic problem in San Diego no matter which route we took.
At the room, we quickly used the iPhone to locate a nearby shopping area, and were easily able to check out restaurant reviews before we chose our dinner location. So far, that's all good.
Now the bad: battery life. It's appalling. When using GPS features, even plugged into the car for charging the battery is being drained at an incredible rate. Using the GPS while plugged in for over an hour and the battery only charged 2%. It was literally draining as fast as it could charge. I kept the phone on the charger for much of the drive. It was 100% charged in Yuma. 53% when we reached San Diego 3 hours later. It was charging in the room when the fire alarm sounded and was back up to 75% and was down again to 50% at bed time.
On Day Two (which is actually today) at Legoland, I'll try to conserve a bit. Typically, at home, I get one day out of a charge and typically have 25-30% charge left. Here's hoping 3.1 OS will improve this!