They say most people consider Labor Day to be the "End of Summer", but in fact, it's not till September 21. Typically, though, summer has begun to let off by now. Not so this year, which I think will be remembered not-so-fondly as the "summer without end" It's still topping 100 degrees every day (101 today) and any way you cut it, that's still hot.
Nonetheless, we headed out to the back-of-beyond (read: Gilbert, AZ) to check out Nichols Park, which, supposedly, contains Arizona's only grass cricket pitch. I'm not exactly sure how this flat lawn differs from the handful of other parks that are used, but that's an argument for the academic types. This is supposedly the real deal.
Although you can't see it in the video, there are actually crease lines on the ground, although, sensibly, no one has obviously played here since at least the spring. Cricket is not a summer sport in Arizona.
Now, I have in my possession both real and practice cricket balls and real and "beach" cricket bats. Between Michelle, James and myself, (Irene stayed in the car with the A/C running) we haven't got enough people to really play, but I've been knocking that damned bat in for weeks now and I really wanted to let it loose on the ball.
First though, I had to experiment with the ball and the pitch. I had Michelle crouch down at the far end of the pitch and, using the real ball, bowled on at her. My expectation was that the ball would be completely off target, both from my lack of bowling skill and from the uneven terrain, and that it would skitter harmlessly past her and she'd go chasing it.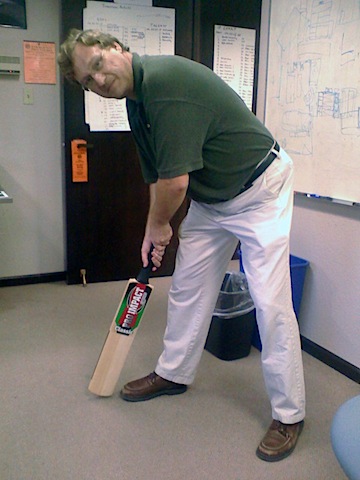 Much to my surprise, my line and length were right on target and had Michelle been a wicket, I'd have knocked middle stump right out of the ground. As it was, I was quite proud of her as, although she didn't catch the ball, she did get both hands on it and nearly caught the ball and avoided getting hurt. (She's had no practice catching the hard ball being through with any force.)
We switched to the practice ball and hit a few. Michelle and James both managed to hit the ball a couple times, and I got to see how lively the new bat was. Compared to a baseball bat, a cricket bat can seriously spank a ball.