I just have not been blogging enough lately. The simplistic ease of just making a quick snark on Facebook is a life-drainer from blogging. I've decided to have a long snark today.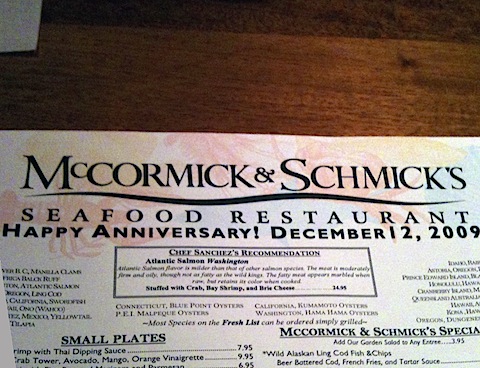 Yesterday was our 11th anniversary (not yours and mine, obviously, but my wife's and my 11th anniversary) and we decided, somewhat unoriginally, that we'd go out to dinner – without the kids.
Seafood, save for good old fish and chips, is not my scene, but Irene loves it. On such occasions, I try to make the effort to take her out for seafood. Most seafood places recognize that someone might prefer a steak and so there's usually one item on the menu that I can tolerate, if not always enjoy. (Seafood restaurants don't always pride themselves on the quality of their non-seafood and so often I get an indifferent steak, at best.)
Having said that, we decided to go to McCormick & Schmick's, mostly because Irene really likes it but partly because they'd e-mailed her in advance about our anniversary and they promised "when you make reservations, just tell us it's your anniversary and we'll take care of everything."
What that exactly meant was a mystery.
Before I go on, I want to say, upfront, that we enjoyed our dinner. Neither she nor I would complain about the quality of the food we were served, but that doesn't mean things went entirely to plan.
Upon arrival, they were ready for us. M&S has fresh fish flown in daily and so their menus are volatile. So volatile, it seems, that they print up menus every day with their changing selection. Each menu has the date printed boldly across the top, but ours were different, they had "Happy Anniversary! December 12, 2009" instead. I suppose that's a charming little touch and it almost made me feel like they really did have some form of "anniversary program" in store for us.
Our waiter arrived at our table. He was a pleasant enough fellow with a noticeably vacuous smile. I know I shouldn't jump to conclusions like that, but after a couple brief interactions, I was feeling more secure in my initial assessment. First he took our drink orders, and when they arrived, we ordered our food. My wife ordered a "mixed steamer basket" and I ordered a New York Strip steak, medium rare. She also had clam chowder and I a salad.
The waiter did not write that down but of course, good waiters don't need to write things down, right? He thanked us and then took our menus and left.
I wondered, "What good will those menus do for anyone else? Do they just throw them away? Are there other anniversary couples coming in this evening?" Although pointless, in my opinion, I wondered if other people kept the menus as a souvenir? For the rest of the evening, I kept looking at other diner's menus to see if our Happy Anniversary ones were back in the "pool" of menus. I never saw them again.
A few minutes later the waiter came back and told us the soup and salad orders were in, but then said, "I'm sorry, sir, how did you want your steak cooked?" I told him (again) medium-rare and then he turned to Irene, "…and how about you?"
Irene was momentarily taken aback since, as far as we know, seafood steamer baskets are not prepared to various levels of doneness like steaks are. She reminded him that she ordered the steamer basket and he went away.
Our starters came out and my soda was running low. The waiter noticed and asked if it was Coke or Diet Coke. I reminded him that it was regular Coke and he went away.
We noticed that everyone else was getting bread and we hadn't, but by then our meal had arrived, so we didn't bother to mention it. He didn't bring my soda.
Irene was brought a steamer basket, but it was the Lobster Steamer, not the Mixed Steamer – although the difference didn't matter to her, as they are basically the same except the Lobster Steamer has lobster and corn in addition to the other items. It is a more expensive menu item and she had been debating which one to get, so she didn't mind.
My steak, which was called officially "14 Oz. New York Strip Steak with Maitre D' Butter" was shockingly small and thin and not cut as I usually expect a New York Strip. I'm not an expert enough to conclusively say that it was not, though. It was also covered in deep fried onion strings. I like deep fried onions, so that wasn't a problem, but it's a darned weird thing to put on a nice piece of steak. (And it's not what I understood Maitre D' Butter to be.) I usually expect that sort of topping on a lower quality piece of meat. I didn't have a scale to measure, but i couldn't imagine this half inch thinck steak I was given being 14 Oz – or even 10 for that matter.
It was very tasty, but it didn't taste like a New York Strip, either. Again, I don't actually expect good steak at a seafood restaurant, so I was pleased that it was cooked right and tasted good.
The waiter arrived, saw that my glass was empty and said, "Another Diet Coke for you, sir?"
"No, regular Coke," I replied. And so the evening went, every time I needed a drink, he didn't remember. I would think after the second or third time of me correcting him, he'd remember – but no. He just kept smiling with that creepy vacuous smile and forgetting everything we told him.
When the bill arrived, Irene's meal had been billed as a Mixed Steamer – which was $5 cheaper than what she'd received, and my food was billed as a "Ribeye Steak grilled with Haystack Onions" – which is no doubt what I actually received, just not what I ordered. The only plus, I didn't eat as much and paid $12 less than what I ordered.
All in all, the meal was good, but it simply wasn't handled very professionally.
Oh, and what other goodies were in store because it was our anniversary, you might ask?
Nothing.
Or perhaps there was and our waiter simply forgot?