Wifi access here is awful!
The hotel charges outrageous rates for it, and, although AT&T includes free wifi access at AT&T hotspots around the world when one has international data roaming on their phone (which I do, or I'd be completely cut off) there are no such hotspots anywhere to be found in the hotel zone of Cancún.  Also, I have an app called Wifinder, which has a user-populated database of free and pay wifi access points around the world, but that also reveals no free wifi in the area.  There is a Starbucks a few kilometers down the road, perhaps later we can get there, buy an iced tea and use theirs.
That said, today was not about wifi, it was about dolphins.
James had his ninth birthday last week and, since he was very, very little, he has been obsessed with sea life, and particularly dolphins.  Some nights, out of the blue it seems, he'll ask me, "Can we go swimming with dolphins?"  That's a tough ask when you live in the desert.
We didn't originally plan this vacation around dolphins, we planned it around a series of coincidences that made this the moment to go:  Chuwan and the kids both had Spring Break on the same week, which rarely happens and Costco had a deal on an all-inclusive resort that covers children under 12 free.  Michelle turns 12 in June, it was now or never.
When I learned that there were several dolphin encounter places in and around Cancún, the idea that this could be James' (admittedly expensive) birthday present seemed too perfect to pass up.  After looking at several of the (confusing) web pages for the various dolphin places, we opted for Dolphin Discovery on La Isla Mujeres, a small island off Cancún.
You are ferried onto the island at 9:30AM, have an appointed dolphin encounter time during the day, and then return by ferry at either 3:30 or 5:30PM.  In the interim, they have a food buffet, lockers and use of the facilities, including the pools and beach, plus you can go explore the island on foot or by taxi.
We choose at 10:30 time for the dolphins and opted for one of the lesser packages.  Each package contains certain dolphin activities.  All include a hug and a kiss from a dolphin, but there are other things like belly rides, fin tugs and foot pushes included.  We didn't pick the top package because I was concerned that, at nine years old, it might not be safe for James to have dolphins come up under his feet and push him out of the water.
At least this morning we had time for breakfast before heading out to the dock.  This time, we took the city bus and that worked fairly well.  Not only do most of the people in Cancún speak passable English, but my several years of Spanish study was beginning to come back to me.
I decided, since we were going to be stuck on an island all day, going in and out of the water, that there was no point in bringing my iPhone with me and only brought my GoPro, even though using your own camera with the dolphins is strictly prohibited.  That decision would come back to mock me later in the day.
When we checked in, they try hard to up-sell you to a different package than the one you already have. The information on their signs in the office is also a lot more concise than their website.  It was much more obvious that the Royal Swim package would be longer, and have more actual human with dolphin interaction. With that package it included the foot push.  So we asked if that was appropriate for a 9-year old.  Of course it was, said they!  (I wonder if it really was?  They'd have said anything for the upsale.) so we decided to upgrade.
What we didn't count on was that our dolphin time got pushed back to 1:30PM.  Instead of an hour to get situated, changed and ready, we had 4 hours to kill.
On the ferry over to the island, we encountered some prodigious drinkers – four young men, two from Belgium, one from France and one from Australia. They set up a table on the ferry and were competing by downing beers as fast as they could.  I saw them drink at least four each on the 30 minute ride (at 9:30 in the morning.)
When we got in we discovered that, apart from drinking and hanging out at the pool, there wasn't much to do at Dolphin Discovery while we waited, except use the free wifi! (!!!!!!!!!)  They provided us ample locker space so I could have easily brought my phone and done some picture uploads, but instead we just hung out at the pool.
The kids loved this, and for the first hour, I napped on a deck chair in the shade.  Later I tried the net hammocks.  That was a disaster!  I didn't fall out (Chuwan did, though) but I can't see how people can sleep in hammocks and after 45 uncomfortable minutes trying to figure out if there actually was a comfortable position, I gave up and went back to the lawn chairs waiting for the lunch buffet to open at noon.
During this entire time, those four young men had also parked themselves by the pool and were now conducting their drinking game on serious terms, having upped their game to using two hands, one beer in each.  I counted that they each drank at least another 10 beers, before one of them said, "Let's hold up a bit, I don't want to be too drunk when we do the dolphins."
Now, these were somewhere between 8 and 16 ounce plastic cups and quite possible watered-down, but it seemed an impressive amount to me.  I could only imagine that the dolphins would get drunk just breathing in their breath when they kissed them.
The lunch buffet finally opened and we had something to do to kill time.  Yes, it's official.  I cannot just sit and relax.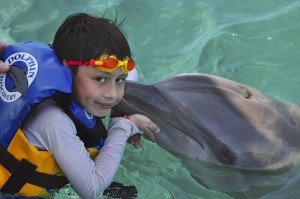 Finally, dolphin time arrived and rather than be super excited, James was scared, but he bravely soldiered on.
You're put into a small group.  In our case, it was just the four of us and two guys from Birmingham (UK)
The dolphin encounter is conducted in a large, fenced off area of the ocean, surrounded by a pier.  You walk down off the pier onto an underwater catwalk attached to the pier.  It was about 3 feet below sea level.  James was mostly submerged walking on it, I was mostly not.
The trainer would, in turn for each person, give us instructions on what the dolphins, America and Athena, would expect from us and how they would react.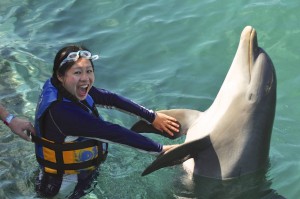 We started with simple activities, where we remained on the catwalk, such as petting, hugging and hissing the dolphins.  At each step of the way, we were instructed to look at the camera that was snapping photos.  Although I was enjoying myself, the photographer had an uncanny ability to catch my facial expression looking unhappy.
After the easy activities,  we began the ones that required a bit of swimming.  Despite a life jacket, the current was strong and you had to fight to stay on-station.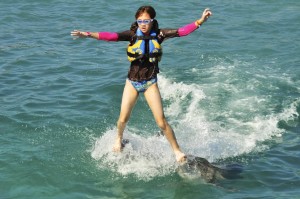 Everyone enjoyed it, especially James, but I couldn't help feeling it was a little too assembly-line, running us mechanically from one photo op to the next.
And then there were the dolphins…  I couldn't help wondering if, when the sun rose each morning, they though to themselves, "Here we go, another day whoring ourselves with the exact same routine for an endless, faceless line of people."  Much like, I imagine everyone in the tourist industry in Cancún says to themselves each morning.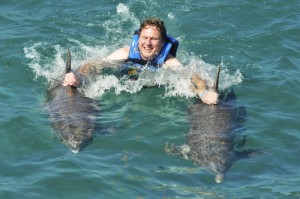 After the dolphin encounter, it's pretty much obligatory that you go look at the pictures they took.  You have basically two options: Buy individual pictures for $38USD each (and they took at least eight photos of each person, one or more for each activity) or you can buy all the photos of each person for $58USD each.
There really wasn't much choice, we bought them all for all four of us.
With the time in the water, getting changed and then purchasing the photos, we missed the 3:30 ferry and had to kill two more hours on the island.  What I wouldn't have given to have brought my phone!
We grabbed a bit more food at the buffet, which closed at 4:00, and hung out at the pool again, which closed at 5:00 and finally caught the last boat out.
The trip over in the morning takes about 25-30 minutes.  The trip back took over an hour, partially because we had to go to the other side of the island and pick up people there, too.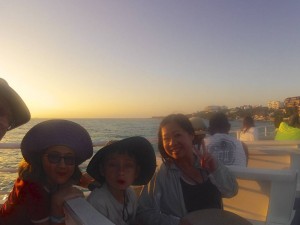 James cried all the way back.  He wants to go back and do the dolphins again tomorrow.
By the time we were back, the sun had set and there was nothing for us to do but catch the (overpacked) bus back to the resort.
This evening's fine dining experience was the resort's Mexican restaurant.  The food was remarkably unremarkable.
Surprisingly tired after a long day mostly spent lying next to the pool.
I'm tired of having to brush my teeth using bottled water!
They provide drinking cups next to the sink, surely that means the water is safe to drink, right?