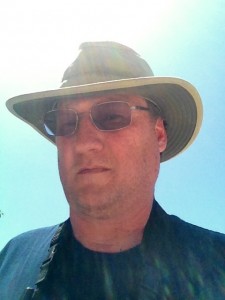 Today was effectively our last day in Mexico.  Tomorrow we're up before 5:00AM to catch the shuttle for our flight home.
This morning's trip to Tolum wasn't particularly early, so we had the opportunity to grab breakfast before we left.  It's a pity they don't serve the spaghetti with meat sauce for breakfast. Our plan meant we'd miss lunch at the hotel and we had dinner reservations at the steakhouse.  The time for spaghetti had passed.
Tolum was about 2 hours away by bus.  This tour promised to be sans the multiple hard-sell tourism stops.  We bus up, 1 hour guided tour, 1 hour free time, we bus back:  That's how I like it.
The weather so far, apart from the rainy day, has been quite nice. It's warm, but, I'm used to that, and there's a constant sea breeze cooling things down here in the hotel zone.  As we departed on the bus, the tour guide let us know it was 98ºF at Tolum today.  That surprised me because, unlike Chichén Itzá, Tolum is on the coast.  98º is tolerable, assuming it isn't humid, which, of course, it is.
As we approached Tolum, the sales pitch began:  "We'll be stopping outside the park, where there will be some vendors.  Normally using the bathrooms cost money, but I will give you a ticket, so your first trip is free.  As long as you have your bus sticker, they'll let you back in later without paying.  We will also stop so you can try some local tequila, absolutely free.  It is made here in the region.  Also, while everyone is using the bathrooms and tasting the tequila, you might wish to buy some souvenirs to take home with you.  If you do, please consider purchasing souvenirs made here in the Yucatan, by the local Mayan people…" and it went on describing exactly the same things we'd been encouraged to buy on the Chichén Itzá tour.
There's a brand of hat, known as a Tilley Endurable.  It's a hat famed (at least in their own marketing campaigns) as being virtually indestructible.  I remember quite vividly from my childhood seeing their ads in my dad's camping magazines and camp directories. The ad retold the story of a man whose Tilley was plucked off his head and eaten by an elephant.  Next day, he retrieved it from the dung pile, washed it and still had the hat many years later.  Apparently, that happened more than once.
I bought my Tilley in California, immediately after my disastrous battle with the Gorn (read: heat exhaustion) at the Vasquez Rocks.  I felt I had reached an age where a floppy, sun-protecting hat was in order as I never wanted to experience that again and you never know when you might need to distract a hungry elephant.
Tilley's more modern ad campaigns focus on the community of Tilley people meeting around the world and knowing that, "that person must be alright, he/she's wearing a Tilley."
It was with that in mind that I happened to spy an elderly gentleman in the front of the bus wearing a Tilley.  I had a brief laugh to myself about perhaps introducing myself, but then quickly reminded myself that I'm basically anti-social and will never approach or talk to a stranger without extreme provocation.
We arrived at the Tolum drop off point, which is essentially a market for souvenirs. (I'm shocked!)  As we queued for the bathroom, someone came up to me from behind and said, "I see you have a Tilley.  Are you from Canada?"  (Tilleys are made in Canada, hence the confusion.)
Yes, it was the old man from the bus.  Apparently he reads the ad copy, too.  Now I too can say that, thousands of miles from home in a far and foreign land, I have experienced the camaraderie and fellowship of world-travelling Tilley wearers.  How odd!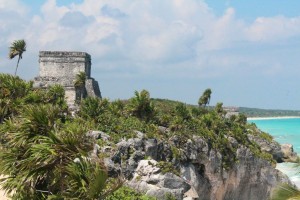 Chichén Itzá is impressive and, particularly around the military parade grounds, the overgrowth of trees in what was once an empty field, has made a beautiful space, but Tolum is on a different order altogether.  It was a walled city, surrounded on three sides with a stone wall and the fourth sits on a cliff facing the sea.  Although the buildings are not as large or elaborate as Chichén Itzá, it is a much more elegant and beautiful location.
The one hour guided tour became a 45 minute stand in one spot and listen, and while we stood there listening, something unpleasant happened.  I started to pass out from the heat and humidity (despite wearing my Tilley!)  At first, I had to crouch down in the shade to make it through the talk, and when it was over, I tried to stand – very unsuccessfully.  I had to find a place in the shade and lie down for a half an hour, drinking almost all the family's water supply while I recovered.  An embarrassing development, to be sure.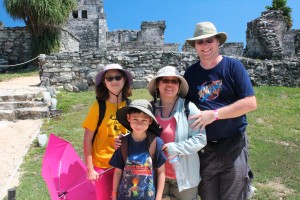 Finally it passed and I was able to get up and gingerly continue our tour of the city, but I wasn't unhappy when we finally got back to the shops and I bought a Dr Pepper (despite the fact that it was in a can and i'd been warned not to drink from cans unless using a straw) and then got back on the bus to sleep most of the return trip.
We got back to the hotel with just enough time to spend one last afternoon on the beach before we had to get ready for dinner at the hotel steakhouse.  Before dinner, I took James to the buffet so he could get one last plate of spaghetti with meat sauce.  (I had one, too.)
The steak dinner wasn't bad and for entertainment, they had a mechanical bull from which we periodically got to see people thrown off.
The trip is done.  Tomorrow will be entirely traveling away from Mexico returning home in the early afternoon.
I shall miss this place, but I'm glad most days we got to go out and do things because sitting around the resort all day would have driven me crazy.
One last thought as I go to bed – no one had any tummy trouble this whole trip – until now.  I think I shouldn't have drank from the Dr. Pepper can without a straw.